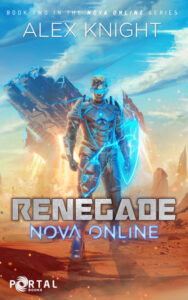 Looking back at my review of Warden (Nova Online #1), it had been a while since a book grabbed me as just plain 'fun'. It was good motivation to continue the series, but there's always that danger with a series that the quality suddenly drops. Not this time though. I'm happy to mention that the second Nova Online book continues strong in this LitRPG series and Alex Knight still has plenty of game experience to draw inspiration from.
*Spoiler Alert* At the end of Warden (Nova Online #1) MC Kaiden Moore escapes prison with his friends, but they still have a mission to complete: Expose the evil 'Party' and bring down their reign of terror. Now being real-world fugitives, and broken free from the in-game warden structure, the stakes increase… as do the dangers. What we get back in return is more real-world complexity, more leveling, more skills and more action.
The Likes
Alex Knight's writing remains strong. It's not amazing ultra high quality sentence magic, but it's clean, tight and clear. It provides for an easy and pleasant read for people of all ages to enjoy.
In Renegade, we spent additional time with Kaiden's fellow adventurers Titus and Zelda, adding to their back stories and character depths (precisely what I hoped for). We also get another POV with Thorne, who's hunting the fugitive trio with her less than pleasant partner.
In the game new mechanics are explored. There's a good dose of Starship Trooper (BUUUUUGS) action involved and Command & Conquer (as well as other RTS) fans reading the books will enjoy the more RTS type influences popping up in the game world. From strategic squad placement to tower defense type of gameplay, while at the same time Kaiden, Titus and Zelda's in-game characters remain crucial for the progression of the fights. I did not once feel disconnected from the experience and the recognizable situations/tactics did an excellent job in tickling the nostalgic feelings I have for such games.
The meh
There's very little to remark here, the main plot of overthrowing the party is still nothing major to write home about, it is never truly explored what bad things this shadow government type of group has done but that's not really necessary either. It's the road toward the goal here which is the main focus and there's nothing wrong with that.
That said, the danger of the party did get a little bit more personal, which helped a little.
Read or not?
Alex Knight did an excellent job continuing the world he created. More story and character depth, new game mechanics and leveling. It provides a fun read again. The book does end with a cliffhanger (it's a series, duh, what did I expect?), which did not bother me at all as I was ready to dive into book #3 right away. In short, great continuation and growth throughout the book, clean writing and the promise of more LitRPG adventures to come. This book clearly fits me well with my gamer history and I think other people that have a passion for games or that are simply looking for a light virtual adventure story will thoroughly enjoy it too. Go check it out here.