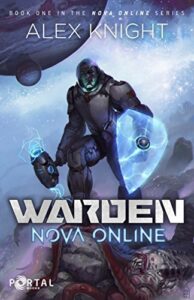 Imprisoned for a murder he didn't commit, Kaiden's only hope of early release is in serving as a Warden in the game-world of Nova Online.

The goal is set in this LitRPG story and the stakes are high. My second dive into LitRPG puts me on a spaceship in a virtual game, and battling aliens and assassins brings an excellent reading experience!
Though the setup of the story is quick (and perhaps flimsy to some), Alex Knight put together a fun read. The MC Kaiden needs to use this wit and the tools at his disposal (in this case the virtual game) to proof his innocence and get out of prison alive.
The Likes
The real world being prison gave things a nice additional layer, which could influence the virtual world as well. There was no "If you die in the game, you die in real life too" which I've seen in animes a few time, but doing "bad" in the virtual world certainly had meaningful consequences for the MC's real life, which gave it weight.
The writing is clear/clean and great quality. This is not super high level prose, but it reads/flows nicely and easily, making the book a quick, entertaining and relaxing read.
Alex Knight knew how to trigger my gaming side with constantly providing little ranking/gaming stat update. Leveling up happens plenty of time and new skills are frequently introduced in order to offer new ways of dealing with the increasing challenges offered to the MC.
The in-game structures are set up well. From the fighting skills, to the ranking/leveling and hierarchy. The players can't just wander around everywhere due to being bound to the prison mechanic, which gave room for the story to have a few additional "obstacles" and puts the characters on certain destined encounters.
The meh
The interaction with the other characters in Kaiden's squad did not go to very deep levels yet, in that way I look forward to discovering some additional layers to them later on in the series. However, in the triangle of the three-person squad, the roles they represented are good additions to the story as well as the "game", so there's value there nonetheless.
The framed-for-murder background story is perhaps a bit shallow, though it did not bother me as I was more interested in the game part anyways.
Read or not?
I think Warden (Nova Online #1) is a great start for people wanting to hop onto their first litRPG experience. The Sci-fi setting was refreshing to me (as I mainly read fantasy settings) and it is well accessible for any level of reader. You can go check it out here.