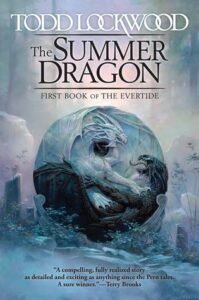 Todd Lockwood's 'The Summer Dragon' is a well-constructed story that shows a level of finesse whom many in the world have already experienced through his visual art.
The main character Maia and her family raise dragons in an aery for the nation's army. Fully ready for a dragon of her own, her path in life takes an unexpected turn when sighting the Summer Dragon. A political net quickly closes around her and not in her favor. As pressure builds and she has to forgo her chance to get a bred dragon youngling of her own, she decides to go against the flow bestowed upon her and follow her own interpretation of the path that destiny laid out before her.
The Likes
Maia is a well-rounded character, filled with a healthy dose of stubbornness and a bit of doubt. It's enough to get carried away on her choices to find her own way and not meekly accept the (political/religion) views thrust upon her.
The adventure is for a large part driven by Maia's sense of self-preservation. Cornered into a future she doesn't want she seems selfish at first but through growth this balances out a little better later in the book.
The support characters are plentiful, and the world feels very much alive. They have enough depth and have other things going on besides their connection with Maia. However, I must say I sometimes had a bit of trouble to keep the the bonds between the characters clear to me, but that was probably more because of my slow reading progress than anything else. There's internal and external conflict brewing throughout the book and plenty of motivations to go around for the characters to feel whole.
The dragons are intelligent creatures but stay on the side of wild animals. This connected with me well and reminded me of my days as a falconer. There's basic communications and a hint that the dragons understand more than one would expect. Next to that, the action with dragons involved is excellently put on the page in a gritty and down to earth way that plays around with the impact and power that such larger creatures could have on enemy and rider alike.
Enemies are plentiful in different shapes and forms. The horrors are deliciously gory and terrifyingly constructed and a large obstacle to overcome. Add some mystic in the mix and it's clear that the world of The Summer Dragon is headed for an interesting and conflict-filled transition phase in which Maia will need to find her way and survive.
The meh
The story's flow is good but did not always keep me engaged. You can see Mister Lockwood constructed the world with a lot of patience and care, yet the action (which I tend to highly enjoy) only really starts to get going toward the end of the book.
Another thing that sat against me was the vagueness of one of the major explored philosophies. Perhaps this was intentional as it frustrates Maia as well, but it tended to land a bit on the boring side in my perception.
Read or not?
Overall, I do recommend this book to dragon fans. It's clear Todd Lockwood has been able to translate his skills with the brush toward that of the pen very well and as a bonus he spoils his readers with some wonderful drawings spread out throughout the book. The story differs enough from other dragon books that I've read to keep things interested and despite the slower than preferred flow of the story, the end resulted in a satisfied read.