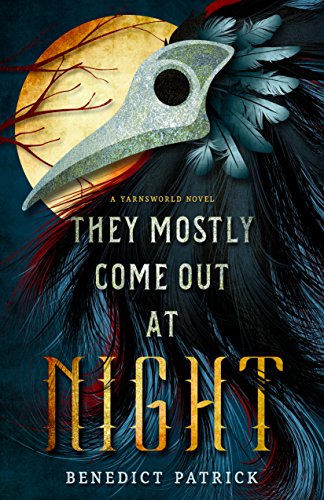 These last few years have not been kind on my reading habits. Life is racing by with so many things to do that I rarely allow myself to sit back and relax a book. In effort to crawl out of my reading slump, I recently bought a e-reader (while normally I prefer to read paper books) and so far it has been working. 
'They mostly come out at night' has been on my TBR list for quite some time and I'm happy this wonderful tale had the honor to drag me into reading again. Not unfamiliar with multiple POVs in my writing myself, I found the telling of this tale pleasantly done as the story switches between two of the main characters. Pacing is excellent and the world is described rich enough to build in my head.
The main character Lonan is shunned by the others in his village for something that was not his fault. Things look pretty bleak, until strange dreams allow him to see through the eyes of Adahy, the son of the Magpie King. Contemplating if this is finally his 'knack' developing, Lonan is convinced things are changing in the grand forest that makes up the Magpie King's domain. But, not everything is as it seems.
I used to watch the series 'Are you afraid of the dark?' when I was younger and loved the creepy feel these weirdly spun stories would give me. The influence of folklore, and specifically the tales from the brothers Grimm, gave Benedict Patrick's book the same wonderful creepiness to me, without overdoing it. The care and love that he has put in this story clearly shows and delivers a reading experience that left me wanting for more. Something that I can only congratulate a fellow writer on immensely–well done. It felt like rediscovering the tales we're told as kids and I enjoyed that very much.
Go pick yourself up a copy if your looking to break away from your normal reading genres and fill it with something unique.
– A.J. Norfield
PS: That cover! So stylish… love it!