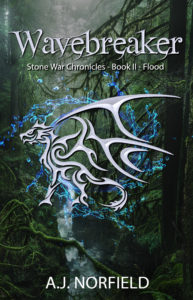 I can't express in words how happy I am the next book in the series will be available online soon! The road of editing on this one was quite unpleasant. Not because of the changes needed to be made (there were not that many, though I must admit editing is the least favorite part of the writing process for me), but because of the trouble with editors I had before finally connecting with the lovely A.J. Spedding. May our cooperation be fruitful and long!
Wavebreaker Part 2: Flood picks up where Wavebreaker Part 1: Trickle stopped. You're thrown right (back) into the action and will finally be able to find out if Trista, Decan and Dalkeira have truly found their new home with the Minai. And let's not forget about Raylan and Galirras. Now that they finally reached the capital, their group's loyalty to each other is severely tested as it's being torn apart by different opinions on how to move forward.
Pre-order
This newest book in the series brings plenty of action, some closure and some new questions as well. Those fans that pre-order Wavebreaker Part 2: Flood will be able to save a few bucks on their purchase. So be sure to get your copy as soon as possible and be among the first to dive back into the story as it officially launches on the 12th of May 2020. 
– A.J. Norfield