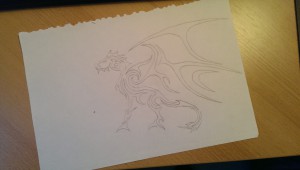 So, unlike the frozen mountains of the White North, or the cold regions of Doskova, our winter has been strangely warm and without snow. I think I haven't seen a white Christmas in over ten years. In contrast, progress on book II goes as slow as moving through five feet of snow, barefoot…with a dragon on your back because he is afraid of getting cold feet. The story-line is progressing well though and the new heroin and second dragon are filling out nicely, I think. Complementing each other, but certainly not without its internal (and external) obstacles.
However, that's only half of it. Raylan and Galirras still have a ways to go and they're in for an unexpected turn of events. It looks like their homecoming won't be what they expect it to be…
In the meantime I'm flushing out ideas for my second cover and after some sketching I'm pretty happy with the result for my second dragon-icon, which will feature on the cover of book II. Next steps will be putting it in vector graphics and smoothing things out with a background that still has to be chosen.
Although it is quite late, I still wish everyone a merry Christmas and (more on schedule) a happy new year! May your lives be filled with loved ones and adventures (both imaginary and real).
– A.J. Norfield