Sometimes it is so obvious that the people behind Goodreads are the same minds that drive the Amazon empire. After Amazon introduced the ability to create eBook Giveaways online, it was only a matter of time before Goodreads would follow. Earlier this week on the 3rd of May the official announcement came out that, within the Goodreads community, it would now be possible to giveaway electronic versions of your book. Many indie authors—like myself—were instantly excited, but there was a nasty surprise still around the corner.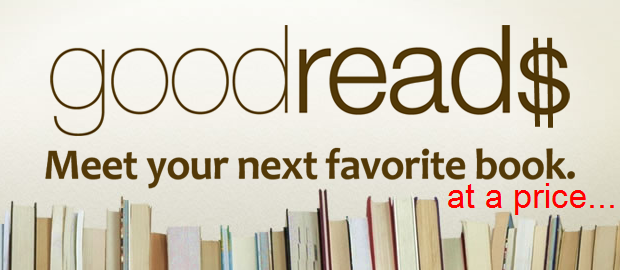 While a Goodreads giveaway is free for any author or publisher if the book has physical form, the new eBook giveaway on Goodreads will set back the organizer $119,- USD. This is not a small price to pay for many of the indie authors. In my case I would have to sell at least 56 books to cover those costs. Not to mention that with investments of professional editing, cover art, typesetting and marketing, costs for a new book can really add up. So why the price tag?
Goodreads says the giveaway listings have always been a strong marketing tool to create buzz for your book. And to be fair, this is true. I only started my own signed paperback giveaway a few hours ago and already more than 120 people have signed up in the hope to win a physical copy of my book. This is great exposure to get and I love the Goodreads community for it.
In addition there's a chance that each person that wins your book will leave a review on Goodreads and if you're lucky on Amazon as well. Every author will agree with me that lots of (good) reviews is one of the key ingredients to reach best-selling author status.
My Goodreads giveaway (running until the 4th of July 2016)
Still, living is expensive, money is tight, so to keep costs low I'm only giving away one physical copy. That way I can at least make one person happy, while I generate some exposure. But, if I were to be forced to giveaway at least 10 paperbacks (including having to pay for shipping, etc.), I wouldn't be able to afford it easily at this point.
So why not do this with the eBooks format? It would make more sense to determine the amount of eBooks you wish to give and—if they felt it absolutely necessary—let you pay a certain amount per eBook (which is the structure of the Amazon eBook Giveaway opportunities). Indie authors would still be able to generate buzz, though the amount of reviews received would be far less—which would be incentive enough to increase the amount of eBooks offered.
Now, granted, you can actually choose the amount of eBooks you wish to give away, but the costs are the same, no matter if you choose to have one winner or a hundred winners…you always pay $119,- USD. So, why anyone would giveaway less than 100 eBooks would be a mystery to me.
The new functionality is currently still in beta, so I honestly hope that some minor adjustments might steer the whole initiative in a slightly different direction, as I do think it's a great step forward—especially with more and more people around the world discovering the joys of electronic readers.
And don't get me wrong, anyone who asks me about Amazon and Goodreads will hear how much I appreciate living in such times that all these things are possible, but at the same time it feels we make a step sideways here as well, which takes away a lot of the fire I'm feeling for such new functionality. Let's hope Goodreads/Amazon will realize this too, and make an effort to accommodate the indie authors of the world once again. Though, unfortunately, I think their eyes are more on the money at this point.
– A.J. Norfield