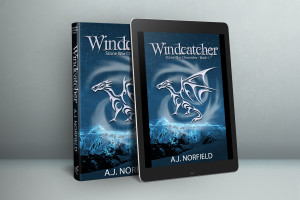 This has been one busy week. Last week was my daughter's first week on elementary school, and she couldn't be more excited. She's like this sponge, just ready to soak in all the new knowledge that is offered to her and I'm happy to see she has a real interest in letters and numbers, reading and writing. I could not be more proud of her!
Besides the personal aspects of life, last week was packed with activity and progress. So I thought to provide a quick update on the things that have happened:
First of all, I really appreciate your support in the cover competition that Windcatcher was taking part in. The cover made it all the way to the second round of the competition, including a full day exposure on the Facebook page of Ultimate Fantasy Books. Unfortunately, in the end, my competition bested me and walked away with first price. Still, for a self-made cover to make it this far in the competition, I'm more than happy to see people be so positive about it! Second place—I'll take it!
A number of reviews have come in over the last week and a half, all of them 4 or 5 stars, which had me jumping for joy. It seems Raylan and Galirras' story is appreciated and enjoyed by its readers, which is all I can hope for. Not everyone is looking for the high level of action Windcatcher provides, but all mention the characters are well fleshed out and the writing skill to be clean and professional.
Readers' Favorite Review: An editorial review from Readers' Favorite also came in at an amazing 5 out of 5-star rating. A small quote: "The writing is effortless in its liveliness, describing the world that Norfield created easily and imaginatively. Windcatcher is the cross-generational book a reader of any age can devour and fantasy fans will find it a satisfying read." – Readers' Favorite
My Amazon Giveaway is currently running and there are still a few books left in case you wish to try your luck. It is your chance to win a FREE ebook of Windcatcher. Just click the link and follow the instructions to participate.
I launched my first Thunderclap as an experiment. It was part of the Facebook takeover event, but did not draw in much activity, yet. So, if you feel like giving a hand, I would really appreciate it if you join the social shout-out I set up. Let's tell the world about Raylan's exciting adventures in the world of Aeterra!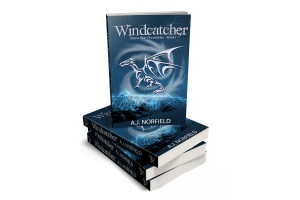 And finally, I'm excited to announce the paperback version of 'Windcatcher' is ready! As of today, people can order a physical version of my book, to hold and read. Somehow it makes the whole writing-a-book-and-publishing-it business that much more real. To everyone out there: Enjoy the week, I'm going to have a well-deserved drink in the spring sunshine. After that: back to finish book II.
– A.J. Norfield